Melbourne Podcast Studio
Castaway Studios is more than just Melbourne's Top Podcast Recording Studio
Nestled in Melbourne's creative hub of Collingwood, our studio complex is set up to record and produce everything from intimate voice overs to live-streaming full productions made for TV. We offer recording of podcasts and presentations from single camera shots to full, multi-camera live-switched events with embedded logos, graphics and themes all able to be added live.
Castaway studios are your partners in production with our mission to help every creator achieve the best possible quality for their content they have worked so hard to develop.
Castaway Studios has been created with the embedded culture that Professional Quality Podcast and Video Production should not need to cost the artist an arm and a leg. (Just the arm is enough….!) All of our Castaway Team members are strong lovers and supporters of the Arts in Melbourne and enjoy working as hard as we can with you to guarantee the best value in Melbourne for your investment in us.
Professional Podcast and Video Productions are us.
Castaway Studios are masters of Podcast and Video Production. From concept design through planning, production and editing, the Castaway team are with you all the way, all from our convenient Collingwood location. Recording and Production of Audio Books, Podcasts, Made for Radio Plays and Productions and Video Productions for TV, we can do it all at Castaway.
"WOW, this studio is amazing.
It's like where grown-ups go to do podcasts" – Stephen Curry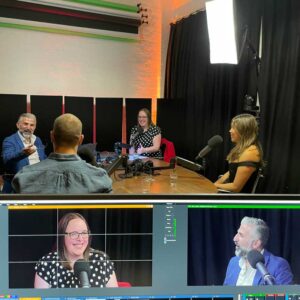 Remote Corporate Video Conferencing
From our convenient location, Castaway Studios can expertly place you at the head of any boardroom table for your meetings or conferences. With our professional audio and video capability we can make it feel and sound like you are amongst your colleagues while saving you the trip to the airport two hours early for your flight and the sad airport lounge happy hour on the way home.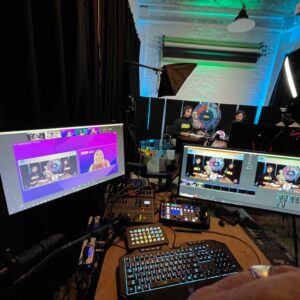 Online Remote Streaming Studio
We host online recordings using Zoom, Zencastr, Facetime, Vmix Call and phones.
Remote recording has always been a large part of the podcast and content industry. Our engineering team at Castaway studios offer the best possible audio quality recording and with our built in redundancy recording servers we are able to ensure your recording is secure while being able to deliver your files in any format you like.
Our team setup and run everything you need for your recording sessions from our studio using our professional equipment to record hosts and guests from anywhere in the world.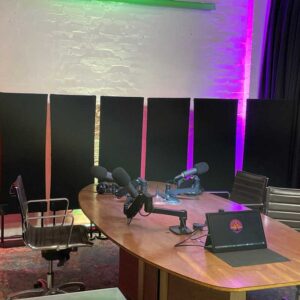 Versatile, hi-tech studios for hire
To complement our production services, we offer studio hire to experienced engineers for producers, creators and external production companies. Depending on your needs and experience we can simply hand you the keys or assist you all the way through.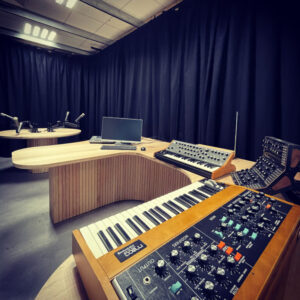 Bespoke Studio design and build service.
Our studio design and build team can turn any room in your office, home, school or facility into a comfortable, professional studio with acoustic treatment and soundproofing. For offices, we are experts at the creation of studios that make you feel and sound as if you are actually there in your meeting, way beyond the Zoom style conference everyone is now excepting as the norm. Investing in one of these professional studios in your office will pay itself off quickly with the immediate savings on your resources and time from your travel and expenses budget.